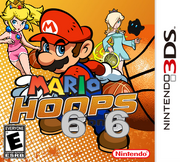 Mario Hoops 6-on-6 is a Nintendo 3DS game that was released in 2013. It is the sequel to Mario Hoops 3-on-3 and was developed by Next Level Games, instead of Square Enix like the first game.
One day, Mario and his friends are playing basketball when they are approached by the Super Team. They challenge Mario and company to face off against them in the Mushroom Kingdom 6-on-6 Basketball Tourney. Mario and his friends agree and the game begins.
Characters
Edit

Character Types
All-Around characters are balanced, and have no high stats and no low stats.
Technical characters have a good aim but they can be slow and weak.
Speedy characters are very weak. However, as their name implies, they are pretty fast.
Powerful characters are very slow but are good at stealing and have a far shot.
Tricky characters have one large stat, the rest are rather low but they have trick moves.
Mario Hoops 6-on-6 has twenty-four playable characters. Twelve characters are playable from the start, with the other twelve being unlockable (See the Unlockables section for methods of unlocking each character). There are five different character types, listed at the side, each character type having its own pros and cons, that can help or halt the players progress in a game. Additionally, all twenty-four characters have a special move called a Slam Shot, with each character having their own Slam Shot.

Starting Characters
Edit
Unlockable Characters
Edit
The fourth course of each tourney (excluding Galaxy Starship) is an unlockable and can only be played in Exhibition Mode. The rest of the courts are played in Tourney Mode as well.
The main mode is Tourney mode, where a team of 6 is chosen and they compete against other teams for the cup, in generally 3 matches. Exhibition mode is like quick-play, but is also customizable.
There are many moves for offense and defense. The player's team of six is identified by a red circle below them, and a blue circle for the opponent team's players. The player's team's basket is always facing ahead of them, and the opponent's team in the back, even when switching courts.
The match starts at half court, with the center of each team preparing to jump for the ball that Lakitu will release at the start. Matches are played in at least two periods lasting two and a half minutes. At the end of each period, each team's coin count is reset to 0 and another jump-ball at half court is initiated. Whichever team has the most points overall when all periods are played wins the match.
When players are on the defensive, ? Panels always produce items very similar to the Mario Kart series. A few items can also be picked up on the offensive. To use most items, players stroke in the direction the item is to be thrown.
The next four items can be collected by both the offense and defense:
The last two items are specific to certain courts:
Slot Coin - only available from purple ? Panels on the offensive, this powers the slots in Jr. Street.
Yoshi Egg - exclusive to Yoshi's Island, this item can be used to knock out anyone in its path.
Tourneys are the equivalent of tournaments in the Mario Kart series. After picking a team of six, players go on to compete in a set of matches (2 periods of 2:30 each), each on a different course. In fact, the tourney is composed of a 8-4-2-1 basis. The other 7 teams are chosen random, and are represented by the captains (center / first character picked) on the elimination screen (shown right). When the player beats the first team, the captain breaks through a classic block while the losing CPU captain comes up with a deactivated block. The gold trophy stands at the top of this screen, with a ? Block below it. The player goes through Round 1, Round 2, and the Finals. If the player loses a match, he or she can try it again as many times as necessary to win and move on.
Exhibition
Edit
Players can choose a team of six, even the opponent's players if desired (each spot left blank is chosen randomly), and jump into any course played and won in Tourney Mode. There are some settings to enhance the one match as well:
Time per Period: 1:40, 2:00, 2:30 (default), 3:00, 3:20.
# of Periods: 2 (default), 4.
? Panels: On (default), Off. If off, shots inside the outer line are worth two points, outside of the line three, and special shots worth four.
CPU Level: 1 (Wimpy), 2 (Easy, default), 3 (Normal), 4 (Hard), 5 (Expert), 6* (Insane).
*Unlocked after winning Hard Rainbow Tourney.
After the match, the player can play with the exact same settings or quit the mode.
Unlockables
Edit
Most of the unlockables come from winning trophies in Tourney Mode, including all but one character, costume changes, and most balls. By getting silver or gold on the first try, more than one unlockable can be obtained. For instance, winning the Rainbow Tourney unlocks Hard Mode, while winning the Hard Rainbow Tourney unlocks Insane difficulty in Exhibition matches.
| | Normal Mushroom Tourney | Normal Flower Tourney | Normal Star Tourney | Normal Rainbow Tourney |
| --- | --- | --- | --- | --- |
| Bronze | Toadette | Rosalina | Metal Mario | Wiggler |
| Silver | Costume Change: Tennis Peach | Costume Change: Winter Daisy | Costume Change: Dr. Mario | Costume Change: WarioWare Wario |
| Gold | Shine Sprite Ball | DK Ball | Spiked Ball | Bob-omb Ball |
| | Hard Mushroom Tourney | Hard Flower Tourney | Hard Star Tourney | Hard Rainbow Tourney |
| Bronze | Boo | Baby Mario | Funky Kong | Dry Bowser |
| Silver | Costume Change: Super Kong | Costume Change: Red Yoshi | Costume Change: Meowser | Costume Change: Biker Rosalina |
| Gold | Bowser Ball | Ghost Ball | Bramball Ball | POW Ball |
| | Insane Mushroom Tourney | Insane Flower Tourney | Insane Star Tourney | Insane Rainbow Tourney |
| Bronze | Tiny Kong | Lanky Kong | King K. Rool | Super Team |
| Silver | Costume Change: Blue Toad | Costume Change: Fire Luigi | Costume Change: Boxer King K. Rool | Costume Change: Sunshine Bowser Jr. |
| Gold | Chain-Chomp Ball | Shy Guy Ball | Blooper Ball | Gold Ball |
When selecting characters by placing them in the hoop, holding the D-pad in a direction or a button at the same time causes a cosmetic change if unlocked, not affecting gameplay abilities.
References to other games
Edit
Ad blocker interference detected!
Wikia is a free-to-use site that makes money from advertising. We have a modified experience for viewers using ad blockers

Wikia is not accessible if you've made further modifications. Remove the custom ad blocker rule(s) and the page will load as expected.