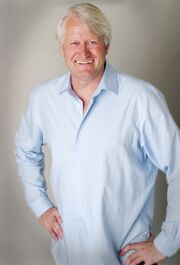 Charles Martinet is an American voice actor from San Jose, California who is the current voice actor for Mario, Luigi, Wario, Waluigi, Metal Mario, Baby Mario, Baby Luigi, Baby Wario, Baby Waluigi, Toadsworth, MC Ballyhoo, Dr. Mario, and Tanooki Mario. He was also the voice for Donkey Kong and Donkey Kong Jr. before Takashi Nagasako took over the role, and briefly voiced Diddy Kong in Super Smash Bros. Brawl (these voice clips were recycled for Super Smash Bros. for Nintendo 3DS/Wii U).
Voice Work
Edit
Ad blocker interference detected!
Wikia is a free-to-use site that makes money from advertising. We have a modified experience for viewers using ad blockers

Wikia is not accessible if you've made further modifications. Remove the custom ad blocker rule(s) and the page will load as expected.